About Sauve Heating & Air Conditioning
We've been providing heating and air conditioning services to Kemptville, Prescott, Brockville, Merrickville and surrounding communities for more than 25 years.
Sauve Heating was born from the belief that "the bitterness of poor quality remains long after the sweetness of low cost is forgotten." We live in the communities we serve and value skillful, trusted people and workmanship. That's why we only install high quality equipment we believe in. It's why our technicians aren't paid commission – they're there to fix problems and get the job done right. And it's why we're happy to support a variety of local causes and organizations. Simple as that.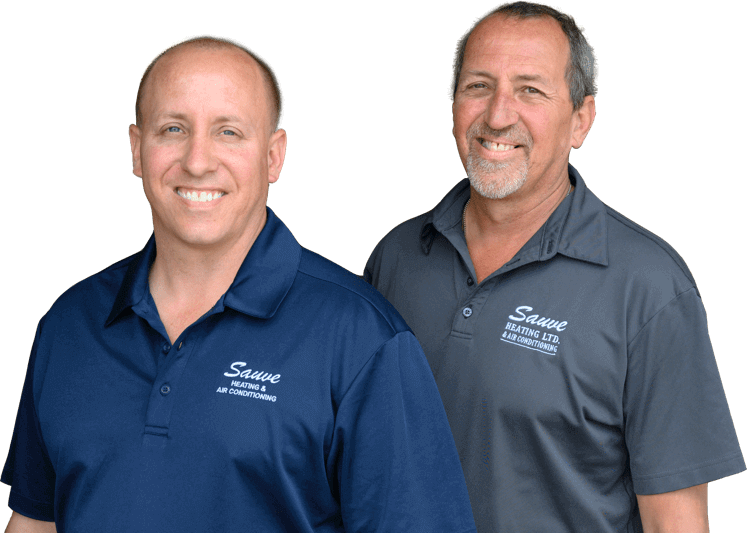 WHAT WE OFFER KEMPTVILLE & SURROUNDING COMMUNITIES
Why Choose Sauve Heating &
Air Conditioning

KEEPING THINGS SIMPLE
From beginning to end, we believe in keeping the process simple. That means coming to see the job first so we can answer any questions and quote accurately. All jobs are clearly outlined and our service is all inclusive so there aren't any surprises.

FREE SECOND OPINIONS
Sometimes you need a second opinion. We're always happy to be an impartial second set of eyes and welcome the opportunity to answer your questions.

ATTENTION TO DETAIL
No matter how big or small, every job is important to us. It's why our technicians are always given the time they need to do their work right the first time.

TWO YEARS' MAINTENANCE
We stand by our workmanship and the quality of the equipment we sell and include two years' no-worry maintenance with every purchase.

NO PRESSURE TO BUY
We value your trust. When our technicians are scheduled for a job, they're there to do that job. They may see and recommend opportunities for improvement but there's never any pressure for them to upsell or for you to buy.

COMMUNITY DRIVEN
Strong communities are supported communities. We appreciate your business and pay it forward by giving back to great local events, charities and causes.
Customer Testimonials
We're proud of the reviews, recommendations and great word of mouth we've earned in Kemptville, Prescott & surrounding communities. Read what others have to say about their experiences with Sauve Heating and Air Conditioning.
Fantastic company to deal with. I have had the pleasure of dealing with Sauve Heating since the business started and would not hesitate to recommend them to anyone, The quality of the work performed during installation and the follow-up service truly is something to behold. Honest, reliable, trustworthy, professional and an absolute delight are but some of the qualities I have found in this company and I would highly recommend them to anyone needing the services they provide.
Absolutely great installation of a top quality natural gas furnace, by a wonderful crew. I would not hesitate to recommend the Sauve team - it just doesn't get better than this.
Just had a new furnace installed by these guys. All I can say is awesome work, fast, efficient, cost effective and professional!! Highly recommended if you're looking for a furnace company who will do what they quote! Thanks again guys, my house is toasty warm.
"Meant to send this note after the guys left, but I was too busy enjoying humidity-free comfort! Just wanted to let you know how much we appreciate the quick response on our request, as well as the professionalism of your installers - they are a credit to your business."
"I was suitably impressed with your thoroughness in checking things out here as well as the detail in your quote. It is clear to me that you aren't finished until the client has all his questions answered."
"Buying my GENERAC generator through Sauve Heating instead of a box store was just added peace of mind. I know I have the right unit for my home & family and that it's installed properly!"
"I just wanted to say how happy I was to arrive home from work to heat and such a professional and considerate installation job! I look forward to a long and happy client relationship with your company."
"In these days of increasing "negative news stories", this one has touched me. Ben & Don are great examples of what it means to be a part of a community. What they did ... while inspirational, is one of the true reflections of community spirit. I just want to say to them 'I admire and applaud your sense of community, thank you.'"
"I know that truck, they bring the warm!"
"I really appreciate Sauve Heating's attention to detail – they even used drop-cloths to help protect my floors!"
Get In Touch With Sauve Heating and Air Conditioning

OUR LOCATION
4401 County Road 18, RR#4, Prescott, ON, K0E 1T0

WORKING HOURS
Monday to Friday
8:00a.m. to 5:00p.m.

OFFICE PHONE
613.258.7173 (Kemptville)
613.925.0223 (Prescott)

EMAIL

Kemptville
PRESCOTT
BROCKVILLE
MERRICKVILLE
Copyright 2020 Sauve Heating & Air Conditioning Ltd.