About Sauve Heating & Air Conditioning
We've been providing heating and air conditioning services to Kemptville, Prescott, Brockville, Merrickville and surrounding communities for more than 25 years.
Sauve Heating was born from the belief that "the bitterness of poor quality remains long after the sweetness of low cost is forgotten." We live in the communities we serve and value skillful, trusted people and workmanship. That's why we only install high quality equipment we believe in. It's why our technicians aren't paid commission – they're there to fix problems and get the job done right. And it's why we're happy to support a variety of local causes and organizations. Simple as that.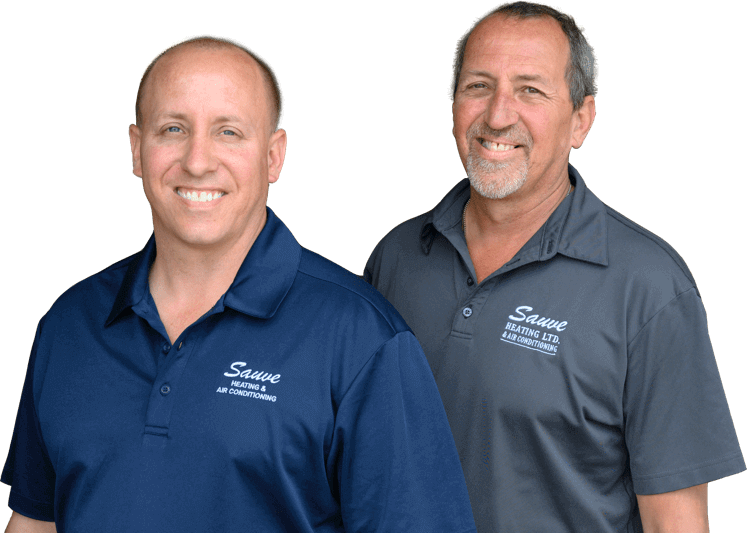 WHAT WE OFFER KEMPTVILLE & SURROUNDING COMMUNITIES
Why Choose Sauve Heating &
Air Conditioning

KEEPING THINGS SIMPLE
From beginning to end, we believe in keeping the process simple. That means coming to see the job first so we can answer any questions and quote accurately. All jobs are clearly outlined and our service is all inclusive so there aren't any surprises.

FREE SECOND OPINIONS
Sometimes you need a second opinion. We're always happy to be an impartial second set of eyes and welcome the opportunity to answer your questions.

ATTENTION TO DETAIL
No matter how big or small, every job is important to us. It's why our technicians are always given the time they need to do their work right the first time.

TWO YEARS' MAINTENANCE
We stand by our workmanship and the quality of the equipment we sell and include two years' no-worry maintenance with every purchase.

NO PRESSURE TO BUY
We value your trust. When our technicians are scheduled for a job, they're there to do that job. They may see and recommend opportunities for improvement but there's never any pressure for them to upsell or for you to buy.

COMMUNITY DRIVEN
Strong communities are supported communities. We appreciate your business and pay it forward by giving back to great local events, charities and causes.
Customer Testimonials
We're proud of the reviews, recommendations and great word of mouth we've earned in Kemptville, Prescott & surrounding communities. Read what others have to say about their experiences with Sauve Heating and Air Conditioning.
This company has been in our home to once service our air conditioner and the second time to resolve a ac problem caused by a lightning storm In both instances we received nothing but first rate service. The staff was knowledgeable, very timely and courteous. The costs were also quite reasonable. The firm provides service to others in this area and they too have rated the experience with Sauve Co as excellent indeed. We highly recommend this company as we have been treated extremely well in all aspects.
I was serviced pretty quickly despite the busy season. The technicians were polite and informative, answering all of my questions. Feel confident in using Sauve Ltd.
Sauve Heating installed my furnace and central. If you notice details and are picky, this is the service for you. They installed exceeding my expectations. Another detail is service of equipment. Once again, they exceed my expectations in how quickly they respond and remedy the problem. Lastly, they are easy to contact and communicate with. A great all around service.
We recently had a complete central air system installed by Sauve Heating and Air Conditioning and we couldn't be more impressed with the whole process. Everyone we dealt with throughout the process (call out, quote, booking, installation and payment) was polite, courteous, informative and happy). The installation was fast and there wasn't a speck of dirt or part left behind for us to deal with. The crew arrived early, were clean and professional. Any time we had a question it was answered and was explained (without making me feel dumb!) and the new system comes with a 2 year warranty and maintenance plan! I would highly recommend this team to everyone!
We love our heat pump/AC unit. It's quiet, environmentally friendly and efficient. The after service for our annual check-up has been fantastic. Great company that I would recommend.
Very pleased, this company is so professional from the first call I placed Christine was so knowledgeable, gave me great advice and made me a prompt appointment to get a free estimate for a new furnace and a central air. Ben came to do the estimate within an hour I had the detailed estimate in my email. Very well priced, 2 years free of maintenance and more. The day of installation installers came right on time, protected my floors with drop cloths, and cleaned up after the job was done. They even did extra jobs at no charge, amazing guys, great experience, highly recommended thank u Sauve heating for everything!!!!
I recently contacted your office for a second opinion regarding a recommendation I had received from another service provider that I should replace my furnace. Your office coordinated a visit to my home on the same day, did an extensive review and adjustment of my furnace, and confirmed that no repair or replacement was required. Sincere thanks for this great service – I will be using your services from now on.
Very professional, quiet .....completed furnace installation in one day set up inspection the following day. Was able to use new furnace in under 24hrs after complication. Would highly recommend using the Sauve team.
Amazing service! Ben actually spent about 2 hours how to figure out a method to get the most efficiency with my existing duct configuration from an old system (1940) even before there was any mention of a new furnace and features. I had 4 quotes in hand and he was the only one that actually took time to really explained "the plan" and answer all my questions. They accommodated ME with an install date and showed up at exactly the promised time! Did an amazing clean and professional job. Save yourself time and deal with Ben and his crew...these guys are the real deal!
Sauve Heating & Air Conditioning was recommended to us from our son. From the initial consultation with Ben, where he walked us through our options, to his advice, and his accurate quotes for a new unit, we were impressed. We had Ben and his team arrive today to install a new furnace and air conditioner. We can't say enough about the efficiency, professionalism and competence of each person. They were an amazing crew, truly a well organized team! They arrived exactly on time, removed the extremely heavy 27 year old furnace, worked all day, cleaned everything up, and were done by 4! They were courteous and friendly, our dog loved them! Highly recommend this company, their service was outstanding! Thank you!
Get In Touch With Sauve Heating and Air Conditioning

OUR LOCATION
4401 County Road 18, RR#4, Prescott, ON, K0E 1T0

OFFICE HOURS
Monday to Friday
8:00a.m. to 5:00p.m.

OFFICE PHONE
Available 24/7
(613) 258-7173 (Kemptville)
(613) 925-0223 (Prescott)

EMAIL

KEMPTVILLE
PRESCOTT
BROCKVILLE
MERRICKVILLE
Copyright 2021 Sauve Heating & Air Conditioning Ltd.