About Sauve Heating & Air Conditioning
We've been providing heating and air conditioning services to Kemptville, Prescott, Brockville, Merrickville and surrounding communities for more than 25 years.
Sauve Heating was born from the belief that "the bitterness of poor quality remains long after the sweetness of low cost is forgotten." We live in the communities we serve and value skillful, trusted people and workmanship. That's why we only install high quality equipment we believe in. It's why our technicians aren't paid commission – they're there to fix problems and get the job done right. And it's why we're happy to support a variety of local causes and organizations. Simple as that.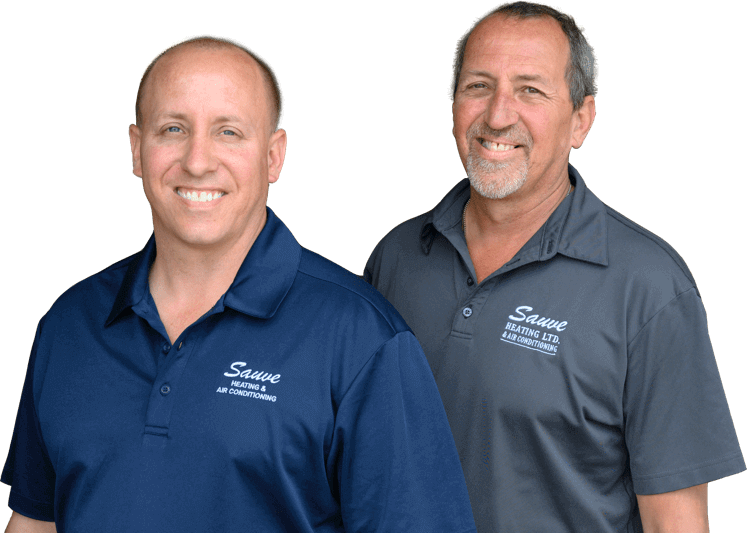 WHAT WE OFFER KEMPTVILLE & SURROUNDING COMMUNITIES
Why Choose Sauve Heating &
Air Conditioning

KEEPING THINGS SIMPLE
From beginning to end, we believe in keeping the process simple. That means coming to see the job first so we can answer any questions and quote accurately. All jobs are clearly outlined and our service is all inclusive so there aren't any surprises.

FREE SECOND OPINIONS
Sometimes you need a second opinion. We're always happy to be an impartial second set of eyes and welcome the opportunity to answer your questions.

ATTENTION TO DETAIL
No matter how big or small, every job is important to us. It's why our technicians are always given the time they need to do their work right the first time.

TWO YEARS' MAINTENANCE
We stand by our workmanship and the quality of the equipment we sell and include two years' no-worry maintenance with every purchase.

NO PRESSURE TO BUY
We value your trust. When our technicians are scheduled for a job, they're there to do that job. They may see and recommend opportunities for improvement but there's never any pressure for them to upsell or for you to buy.

COMMUNITY DRIVEN
Strong communities are supported communities. We appreciate your business and pay it forward by giving back to great local events, charities and causes.
Customer Testimonials
We're proud of the reviews, recommendations and great word of mouth we've earned in Kemptville, Prescott & surrounding communities. Read what others have to say about their experiences with Sauve Heating and Air Conditioning.
Very pleased, this company is so professional from the first call I placed Christine was so knowledgeable, gave me great advice and made me a prompt appointment to get a free estimate for a new furnace and a central air. Ben came to do the estimate within an hour I had the detailed estimate in my email. Very well priced, 2 years free of maintenance and more. The day of installation installers came right on time, protected my floors with drop cloths, and cleaned up after the job was done. They even did extra jobs at no charge, amazing guys, great experience, highly recommended thank u Sauve heating for everything!!!!
I recently contacted your office for a second opinion regarding a recommendation I had received from another service provider that I should replace my furnace. Your office coordinated a visit to my home on the same day, did an extensive review and adjustment of my furnace, and confirmed that no repair or replacement was required. Sincere thanks for this great service – I will be using your services from now on.
Very professional, quiet .....completed furnace installation in one day set up inspection the following day. Was able to use new furnace in under 24hrs after complication. Would highly recommend using the Sauve team.
Amazing service! Ben actually spent about 2 hours how to figure out a method to get the most efficiency with my existing duct configuration from an old system (1940) even before there was any mention of a new furnace and features. I had 4 quotes in hand and he was the only one that actually took time to really explained "the plan" and answer all my questions. They accommodated ME with an install date and showed up at exactly the promised time! Did an amazing clean and professional job. Save yourself time and deal with Ben and his crew...these guys are the real deal!
Sauve Heating & Air Conditioning was recommended to us from our son. From the initial consultation with Ben, where he walked us through our options, to his advice, and his accurate quotes for a new unit, we were impressed. We had Ben and his team arrive today to install a new furnace and air conditioner. We can't say enough about the efficiency, professionalism and competence of each person. They were an amazing crew, truly a well organized team! They arrived exactly on time, removed the extremely heavy 27 year old furnace, worked all day, cleaned everything up, and were done by 4! They were courteous and friendly, our dog loved them! Highly recommend this company, their service was outstanding! Thank you!
Sauve heating Installed my new propane furnace, They were professional and cleaned up the removal of the oil tank and old furnace, leaving no trace. They set me up with a propane company, that has been perfect. No issues at all, I was reminded to have my furnace cleaned as the install included maintenance and a cleaning. Couldn't ask for nicer people, from the owner Ben coming and giving the quote to the install crew, the super nice Office Manage, Kristine and the great tech Randy that performed the annual cleaning.
Had Ben convert my home from an oil furnace to a high efficiency propane furnace. The installation was done perfectly; Ben and his team were very knowledgeable and could answer all of my questions and provide me with a ton of information about the unit, and maintenance. Everything was installed in the best way possible to maximize space in the utility room which I really appreciated. I am very happy with the service and product I was given. I am glad I was able to have Ben come to my house and upgrade my furnace. I really appreciate Ben's patience answering all of my questions and concerns comparing different units trying to figure out the best option for me. I really would recommend Sauvé heating to anyone and encourage potential customers to not hesitate contacting Ben. He is very knowledgeable and will certainly be able to get you the best unit available to suit your needs.
Fantastic company to deal with. I have had the pleasure of dealing with Sauve Heating since the business started and would not hesitate to recommend them to anyone, The quality of the work performed during installation and the follow-up service truly is something to behold. Honest, reliable, trustworthy, professional and an absolute delight are but some of the qualities I have found in this company and I would highly recommend them to anyone needing the services they provide.
Absolutely great installation of a top quality natural gas furnace, by a wonderful crew. I would not hesitate to recommend the Sauve team - it just doesn't get better than this.
Just had a new furnace installed by these guys. All I can say is awesome work, fast, efficient, cost effective and professional!! Highly recommended if you're looking for a furnace company who will do what they quote! Thanks again guys, my house is toasty warm.
LEAVE A REVIEW
Get In Touch With Sauve Heating and Air Conditioning

OUR LOCATION
4401 County Road 18, RR#4, Prescott, ON, K0E 1T0

WORKING HOURS
Monday to Friday
8:00a.m. to 5:00p.m.

OFFICE PHONE
613.258.7173 (Kemptville)
613.925.0223 (Prescott)

EMAIL

Kemptville
PRESCOTT
BROCKVILLE
MERRICKVILLE
Copyright 2020 Sauve Heating & Air Conditioning Ltd.