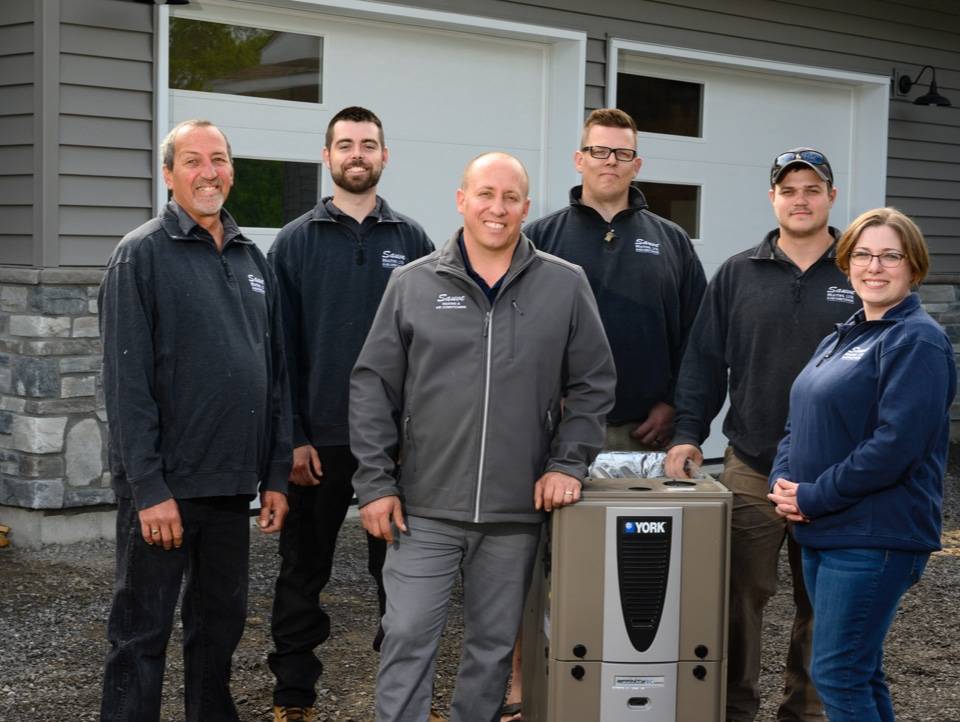 Slide
Contact Sauve Heating & Air Conditioning
There's no job too big or small. Get in touch with Sauve Heating today, and we'll get back to you right away. We're always here to help.
If you have a problem, these folks will go out of their way to sort it out. Outstanding service!
Kemptville is a small town. And in small towns, it's so important to support local businesses. I know first hand, as I'm a local licensed mortgage agent. My business has been built on a high level of customer satisfaction and referrals. Last night, my furnace stopped working. I looked up local options in a Facebook group and came across Sauve Heating & Air Conditioning, which was highly recommended by many group members. I'm so thankful I gave them a call. Their team has been absolutely incredible: the owner, Ben, Jordan who was dispatching calls and most importantly, Matthew the technician who came to our home not once, but twice to solve the problem. Matthew is nothing short of a rock star, and on top of that, a pleasant and friendly person. They are knowledge me, responsive, on time and they truly care. If you need anything for your home HVAC system, I honestly cannot recommend Sauve enough.
Recently had the installation of a new furnace/AC unit by Sauve Heating & Air Conditioning. The Owner Ben and Service Team were Professional, respectful, efficient, kept the work area clean, and informative. Would recommend them to others. Thank you to the Owner, Service team & Admin staff!
Always a pleasure dealing with Sauves. Professional, trustworthy and friendly. Will always be our go to for our heating and cooling needs.
Our water heater broke down on Christmas holiday and they were able to remove and instal a new one the next day. It only took them a few hours to completely finish the job. They are a dependable and professional company
Great people! Quick to respond on boxing day. Very friendly, helpful and even educational. Would recommend
Jocelyn Brison
2022-11-22
Huge shout out to Devin and the Sauve team for getting our furnace fixed the same day we called. We'd been without heat for weeks and our installation company was unable to help. Sauve's team was amazing over the phone and then they sent Devin for the repair. He was kind, friendly and explained everything so well (he was a huge hit to the dogs)! We anticipate needing a new furnace next season and we will be happy to purchase through Sauve. Amazing service and price!
Pablo Romero Barrios
2022-10-22
Very happy to have the new heat pump in place, thanks for a very smooth installation process!
Caro "Phanthomz"
2022-10-20
Ben and his team are amazing to work with and I would recommend them to anyone. We had Ben come in before we finished our renovations, his team installed the duct work/wiring/lines a year before we did the actual installation. Ben and his team are amazing, everyone was professional, courteous, on time and cleaned up after themselves. We had a Fujitsu heat pump installed and so far we love it!

How can we help?
We offer free, no obligation quotes in 24 hours or less.
We'll get back to you very soon, and often within a few minutes! If this is an emergency, please call us.

Servicing Leeds & Grenville since 1992

4.9/5 stars on Google...
and counting!

Available 24/7 for your HVAC emergencies

Locally owned and operated HVAC company

ENERGY SAVING SOLUTIONS
Our HVAC technicians are efficiency experts. Investing in efficient solutions creates a greener, more eco-friendly home while saving you money on your utility bills. We can help design the right HVAC solutions for your home comfort as well as ensuring you're applying for any government rebates that you may be eligible for.

24/7 EMERGENCY HVAC SERVICE
Sauve Heating & Air Conditioning is available all hours, every day of the week so you can rest easy. Our emergency HVAC repair services are available in Kemptville, Merrickville, Prescott, Brockville, and surrounding areas. We have been the trusted HVAC team in the area for over 25 years.

NEW CONSTRUCTION HVAC
We will ensure you're happy with your home comfort today and for decades to come. We focus on three major areas when creating HVAC systems for new homes: efficiency, ductwork & ventilation design, and affordability & value. Chat with us today about your home construction project and how we can help.
Get up to
$5,000 in Government Rebates
Buildings, including our homes, account for 18% of Canada's greenhouse gas emissions. This grant is designed to help Canadians make where they live more energy-efficient. This means homes will be more comfortable and more affordable to maintain while also supporting our environmental objectives.
The Canada Greener Homes Grant will help homeowners make their homes more energy-efficient, create new jobs across Canada for energy advisors, grow our domestic green supply chains, and fight climate change.
Reasons to Choose Sauve Heating & Air Conditioning
KEEPING IT SIMPLE SINCE 1992
2 YRS OF SERVICE INCL. WITH EVERY PURCHASE
COMMUNITY DRIVEN – WE LIVE HERE TOO!
Experienced. Honest.
Trusted.
Sauve Heating & Air Conditioning has been providing residential HVAC services to Kemptville, Prescott, Brockville, Merrickville and surrounding communities for more than 25 years.
We're available by phone for your HVAC emergencies every day of the week, any time, 24/7.
Kemptville: (613) 258-7173
Prescott: (613) 925-0223
A few of the leading HVAC brands we
trust and use...