Air Conditioners
We service all makes and models but only install the
industry's best air conditioners by YORK®
Do you have an HVAC issue or question?
Do you have a noisy fan keeping you up at night?
Did you take a luke-warm shower this winter?
Did your windows drip with condensation this winter?
Did your AC break-down last year?
Thinking about a SMART (or WIFI) thermostat this summer?
Investing in an Air
Conditioner
There are two things to consider when thinking about air conditioners. Size and Efficiency.
Bigger doesn't mean better. When choosing the right air conditioner for your home, we take many factors into consideration including, square footage, window size and direction, as well as insulation values in your walls and attic.
An air conditioner doesn't just cool your home, it also removes humidity. While an over-sized unit will cool your home quickly, it will not have time to effectively remove humidity, leaving you feeling cold and clammy.
Choosing an efficient model can be a tough decision. The Seasonal Energy Efficiency Ratio (SEER) is the air conditioner efficiency rating. Like your furnace's AFUE percentage rating, a higher SEER equals higher efficiency. Minimum code in Canada is now 13 SEER and ENERGY STAR® is 14 SEER but some central air conditioners can reach as high as 26 SEER.
While we pride ourselves as being leaders in efficiency, we also believe in practicality. That's why we believe the initial higher costs associated with high-SEER units is unwarranted for our climate. We know the decision is a balance between efficiency and budget and we will offer solutions that make sense for you and your family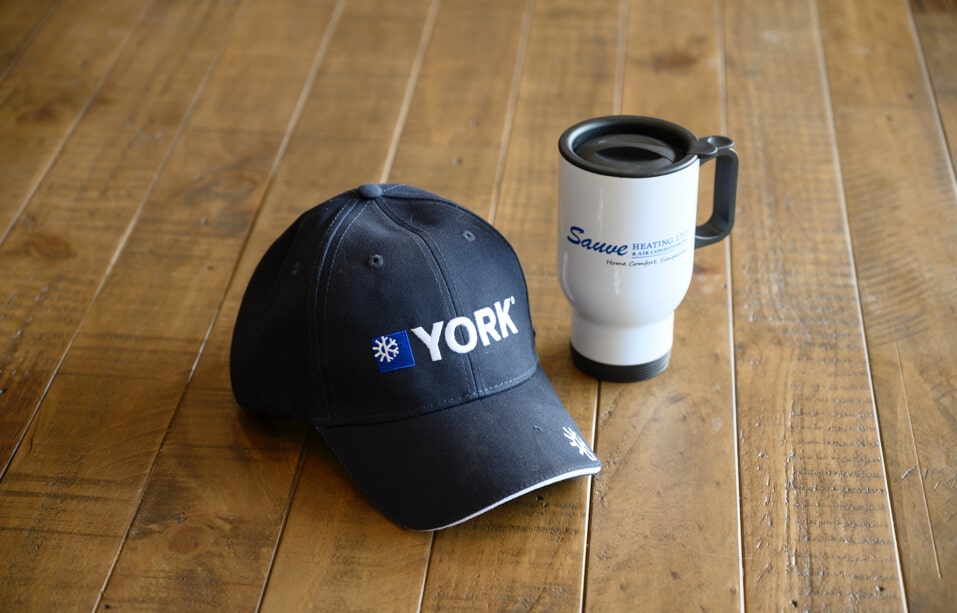 Why
YORK®

Is the Best AC Solution
Like we do, YORK® believes in and stands by their quality. For years, YORK® products have been meeting and exceeding expectations. Their products have achieved the ENERGY STAR® "Most Efficient" designation and are also backed by Good Housekeeping Magazine's Seal. YORK®'s lineup also boasts the trusted Consumer Digest Best Buy Award.
As the area's longest-serving YORK® dealer with more than a decade's experience working with their products, we know and trust their performance.
Energy ratings to consider
Seasonal Energy Efficiency Ratio (SEER):
The measure of the amount of cooling produced divided by the amount of energy used. The higher the SEER Rating, the more comfort you'll generally get from each energy dollar invested.
Answers to Frequently Asked
HVAC Questions
Air Conditioners FAQ
We offer an annual A/C maintenance plan. With the Sauve Family Plan, you're getting protection that includes:
Two visits per year (one for comprehensive maintenance and one tune-up)
Tracking & analysis (looking at your A/C electric bill, detecting potential air conditioning problems, etc.)
30% off parts & labour for air conditioning repair service
50% off diagnostic fees for A/C repair & service
An A/C tune-up includes; condenser coil cleaning, calibrating the thermostat, filter inspection/replacement, checking electrical connections, gauging air flow, evaluating the blower & components, checking refrigerant levels and pressure, lubricating moving parts, cleaning of key components and much more.
Our experienced and friendly A/C tech from Sauve Heating & Cooling are available to inspect and tune up your air conditioning system in Kemptville, Prescott, Brockville, Merrickville and the surrounding communities; and they'll advise should anything be out of the ordinary and whether further attention is required.
There are, of course, many different types of HVAC maintenance. For starters, there's proactive maintenance for your heating & air conditioning systems.
Common types of proactive maintenance include:
Furnace tune-ups
Air conditioning tune-ups (and top-offs)
Filter maintenance (ensuring that you change filters at the right intervals, and select the right filters, can save you money and help ensure you're breathing better air)
There's also the kind of HVAC maintenance that happens when you notice irregularities with your heating or cooling systems. If you're struggling to reach or maintain the desired temperature in your home or business, we can help with a diagnosis and suggested course of repair.
If you're experiencing a HVAC emergency, such as a broken A/C or loss of heating, we can dispatch a HVAC contractor ASAP to diagnose the issue (e.g. blown fan, broken heating coils, etc.) and repair the furnace or A/C promptly.
Sauve Heating & Cooling is ready to be your go to partner for HVAC maintenance in Kemptville, Prescott, Brockville, Merrickville and the surrounding communities. Our team is extremely diligent when it comes to HVAC maintenance and we guarantee that all of our technicians will take the time to properly review and maintain all heating & cooling systems that we have installed and repaired.
The term "HVAC" refers to "Heating, Ventilation and Air Conditioning." It's a catch-all phrase that's common in the HVAC industry, of course, but may not have as much meaning for the layperson. What it really comes down to is heating and cooling (you may have noticed that in our name!).
For you, the homeowner, a good HVAC system means having a furnace, ductwork and (possibly) an air conditioning system that are in good working order and are delivering home comfort by giving you warmth in the cold winter and cool air on those hot, humid summer days here in Eastern Ontario.
When our team looks at HVAC systems, we look at the whole picture, from your furnace and blower unit; to your outside air conditioner; to your ductwork and ventilation; to the gas lines and more. Everything in your HVAC system needs to be working in unison to keep your home comfortable year-round.
For commercial HVAC systems, we're talking about the comfort and functionality of businesses – from restaurants and retail establishments to warehouses, industrial facilities and a wide array of businesses.
Whether you run a takeout coffee shop in Kemptville or a distribution centre in Brockville, you're relying on your HVAC system to be in proper working shape, 24/7 year-round.
Investing in your home comfort should never be a burden. We offer easy, flexible payment solutions through SNAP Financial, giving you access to:
Affordable monthly payments;
Competitive interest rates;
Flexible pay-off options;
Hassle-free direct debit or credit card payments.
Ready to Buy a
YORK® Air Conditioner?
Let's Book Your FREE Quote

OUR LOCATION
4401 County Road 18, RR#4, Prescott, ON, K0E 1T0

WORKING HOURS
Monday to Friday
8:00a.m. to 5:00p.m.

OFFICE PHONE
613.258.7173 (Kemptville)
613.925.0223 (Prescott)

EMAIL

Kemptville
PRESCOTT
BROCKVILLE
MERRICKVILLE
Copyright 2020 Sauve Heating & Air Conditioning Ltd.